till 2014
Tempus / Erasmus Mundus / Jean Monnet (projects implemented till 2014)
Overview of Tempus (1995-2013) and Erasmus Mundus (2007-2013) programmes in Georgia since their introduction, including statistics, is provided in the report of National Tempus Office.
Tempus
Tempus is the European Union's programme, which supports the modernisation of higher education in countries surrounding the EU. From 2014 Tempus has been replaced by the Erasmus+ Capacity Building programme.
Thirty Georgian HEIs (both public and private) from nine cities (Tbilisi, Kutaisi, Batumi, Gori, Telavi, Zugdidi, Akhaltsikhe, Akhalkalaki and Tsnori) were participating in different Tempus projects since 1995 (full list of projects indicating partners, is provided here).
Number of applications, as well as number of funded projects involving Georgian HEIs was continuously increasing, partly reflecting increased budget for the programme, but also growing interest and motivation of local universities (Table 1).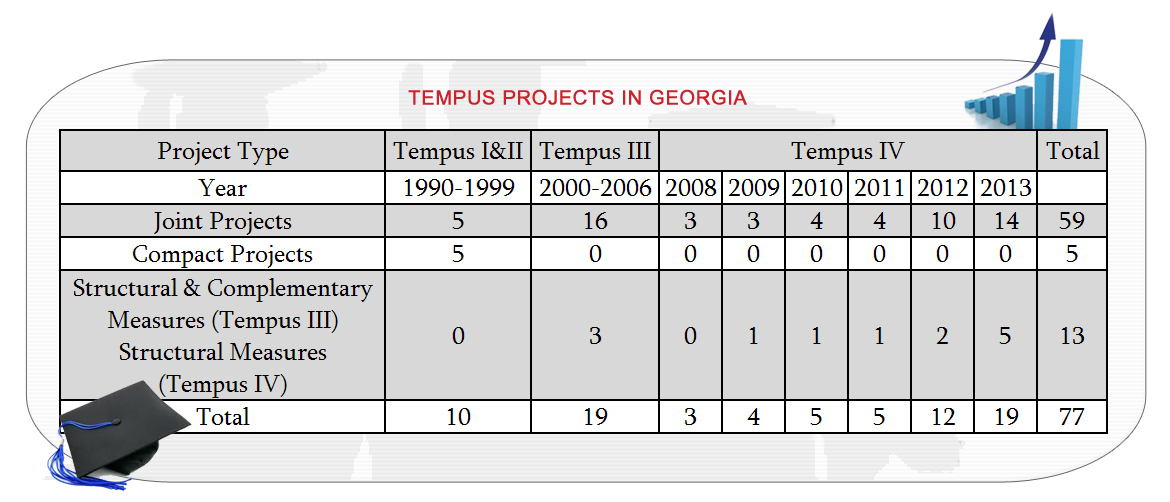 Erasmus Mundus
Erasmus Mundus is cooperation and mobility programme in the field of higher education, providing support to universities (by developing joint master programmes) and individual students, researchers and university staff. In the Erasmus+ programme it will be replaced by Credit mobility and Degree mobility.
Georgian universities participated in 23 Erasmus Mundus Action 2 consortia since 2007 (see full information here) – currently project are phasing out.
Jean Monnet
Five Jean Monnet projects have been implemented so far in Georgia (see the list), including ongoing one: currently only one Jean Monnet action is being implemented in Georgia at the Shota Rustaveli Batumi State University: EULISC (Summer School on EU Law in the South Caucasus). A Jean Monnet Module is a short teaching programme in the field of European Union studies at a higher education institution with a duration of three years. Two summer schools have been already organized with University of Graz (in 2013 and 2014).